HAIR TRANSPLANT FOR WOMEN
Hair transplants for women are a growing buzz in the beauty care and medical industries worldwide.
A woman's hair contributes immensely to her appearance and self-perception. So, when hair loss sets in, it can trigger all of the wrong emotions.
What causes hair loss in women?
Several types of hair loss exist, but most of the time, androgenetic alopecia is the cause. And while it's seen as a predominantly male condition (it's called male pattern baldness for a reason), it's common in women too.
Apart from this cause, hair loss in women can result from traction alopecia or from health and skin conditions, lifestyle choices, and traumatic events.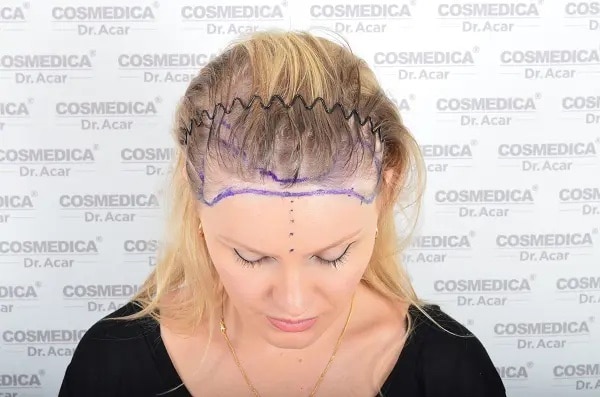 Female pattern hair loss causes hair thinning, a symptom quite different from the classic balding progression that hair loss manifests itself in men.
Although some cases of female hair loss are temporary and would wear off without treatment, more permanent conditions require treatment through hair transplant surgery.
Turkey is a famous destination for women seeking to undergo a hair transplant for women. With expert surgical operation centres like Cosmedica Clinic and mind-blowing, swift recovery rate among patients, it's not surprising to notice the trend of hair transplants in Turkey.
Hair transplant operation techniques
Generally speaking, hair transplant treatments are an innovative hair restoration surgery that focuses on extracting and grafting hair follicles to achieve sustainable hair growth.
Women who experience hair loss can opt-in for either the FUE or DHI hair transplant techniques. Using the FUT technique is also possible, but this method is not practiced at Cosmedica.
Follicular Unit Extraction (FUE)
Individual hair grafts are first extracted from suitable donor sites of the head. Then, surgeons open up microchannels and insert the grafts into the recipient area.
While women may be hesitant to go for a shave, the FUE hair transplant is quite popular because of its quick recovery rate and reduced scarring, which means you can return to work in no time.
Direct Hair Implantation (DHI)
The DHI technique does not require full shaving. Plus, it comprises modern methods which makes it more suitable for women today.
The DHI works with the use of implanter pens to transplant grafts into open hair channels in one fell swoop.
Compared to most other hair transplant procedures, DHI has a faster recovery time but the surgery takes longer. At Cosmedica Clinic, we recommend the DHI because of the precision that this minimally invasive technique offers female patients.
Besides, the donor area is usually set at the back of the head, making the process less conspicuous post-surgery. Cosmedica Clinic also offers top-notch DHI Sapphire transplant services with local anesthesia to prevent a painful operation.
Why choose Cosmedica Clinic for your female hair transplant?
Your hair deserves the best treatment it can get. And even when you get transplanted hair, it ought to blend with the rest of your hair, not looking like a standalone project.
Amazing results that ensure your hair grows in a natural way and more is what we promise at Cosmedica.
Cosmedica is a leading hair transplant center in Turkey that prides itself in its adoption of modern technologies in hair transplantation and client satisfaction.
If you're thinking of having your hair transplant for women, here are a few reasons why you should choose Cosmedica.
Our doctors have a wealth of experience in DHI and FUE hair transplantation procedures spanning over fifteen years.
We adopt top of the line medical equipment and hair transplant technology.
Cosmedica offers English speaking doctors that can attend to your needs in your native language.
Our hair transplant for women services come with VIP treatment, all at a very affordable cost.
We have a highly commendable success rate and positive reviews from previous clients.
You get to experience personalized services and free consultation.
Cosmedica is the consecutive winner of the What Clinic Customer Service Award, for outstanding customer care services.
Free hair analysis and hair transplant consultation
Individual, free of charge and of course without obligation – your personal hair analysis. Let our English-speaking team of experts consult with you.
How much will a hair transplant for women cost you in Turkey?
There is no denying that Turkey is a favourite destination for hair transplantation. And, as you already know, one of the major factors accounting for Turkey as a top choice is professional expertise and affordability.
With experienced practitioners and high-quality hair transplant techniques like you can find at Cosmedica Clinic, there's hardly a reason not to choose Turkey.
Now, the best part is that for all you stand to gain from a hair transplant in Turkey, you have to spend less than in many parts of the world.
For instance, a female hair transplant can cost as much as $20,000 to $50,000 in the Western world.
However, you may be looking to spend a tenth of that price for an all-inclusive hair transplant procedure at Cosmedica Clinic.
Getting a hair transplant for women is quite affordable in Turkey, but the price is never a statement of lower quality, compared to Western countries. Besides, Turkey is keen on local production. It costs less to get the goods necessary for a hair transplant.
We know that you're convinced enough to have your hair transplant for women here at Cosmedica.
Our physical location is hosted by the amazing city of Istanbul. And if you're outside of Turkey, we have representatives in 19 countries that are available around the clock to support you.
Contact us via email or phone today to get started on your hair transplant.