Micro Sapphire DHI hair transplant
Micro Sapphire DHI is the world's leading hair transplant technique. Cosmedica Clinc and Dr. Levent Acar are Turkey's leading practitioners.
Advantages of Micro Sapphire DHI hair transplants
Extremely
precise incisions
With the micro sapphire blade, the incisions are much finer and more precise.
Sapphire DHI Implantation provides full protection for hair grafts during transplantation
Accelerated
healing process
Smaller incisions heal faster, hurt less and have a lower risk of infection.
Natural and
better density
99% success rate of hair grafts means thicker hair and a completely natural looking hairline.
Micro Sapphire DHI hair transplants achieve:
99% HAIR GRAFT SUCCESS
INCREASED HAIR DENSITY
MINIMAL INVASIVENESS
FEWER STRIPES
FEWER WOUNDS
PRECISE INCISIONS
PERFECT DIRECTION OF GROWTH
FASTER HEALING
PROTECTED TRANSPLANTATION
NO VISIBLE SCARRING
NO MORE HAIR LOSS
Stages of Micro Sapphire DHI hair transplant: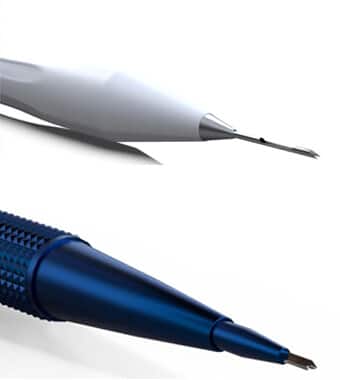 1. Follicular Unit Extraction
Similar to traditional FUE Sapphire hair transplants, hair follicles are harvested from the donor area one by one using advanced micromotors. Different types of punches are used for different hair types such as European, Asian and African-American.
The sapphire microblade opens up hair canals. The cuts are more accurate and precise than with traditional steel tools. The risk of tissue damage and trauma is minimised and the healing process is faster.
The grafts are implanted into the recipient area. The advanced DHI implanter pen provides full protection for the delicate hair grafts.
Micro Sapphire DHI hair transplant: the world's best technique
Dr. Acar at Cosmedica clinic has developed Micro DHI Sapphire as the most advanced and successful method of hair transplantation in Turkey and the world today. Thanks to the use of the choi implanter pen, the DHI direct hair implantation technique offers the best hair graft survival rate of any hair implantation technique compared to a regular FUE hair transplant.
What is more, the Micro Sapphire DHI hair transplant technique allows for the smallest incisions in the scalp of any hair restoration technique. Because of this, the damage to the scalp is minimised, which results in faster healing and less side effects such as infection or pain.
The precision of the operation gives the densest hair growth of any hair loss treatment in existence. Sapphire cutting technology allows for a greater number of grafts per squares centimetre compared to other types of FUE techniques or the standard DHI technique, and in combination with the choi pen this is making hair transplant surgeries a breeze.